Philips Norelco NT9110
Precision Nose & Ear Trimmer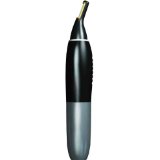 Philips Norelco NT9110 Precision Nose & Ear Trimmer
Battery Operated nose & ear trimmer, can also do eyebrows! Trimming without nicks, cuts, or pulling with the patented Tube Shave technology employed by Philips Norelco. You get an angled head which gives you much better reach and also control. Easy to clean up as it is water resistant. Includes 2 eyebrow trimming combs, protective cap, and an AA battery.

---
Related Buyer Guides
Shaving & Hair Removal Product Reviews | Groom Mate Nose & Ear Hair Trimmers | Panasonic Nose & Ear Trimmers | Philips Norelco NT9110 Precision Nose and Ear Trimmer
---
Post Your Submission Here
If you would like to write a review please fill in the form below. For questions please be specific. If asking a question on merchandise, please give as much information as possible. Such as the brand, make, model, where purchased, etc.