Top Ten Manual Shavers for Men
---
Reviews of Top Ten Manual Shavers for Men
---
In an increasingly busy world where grooming time is at a premium, you need a razor you can count on for a comfortable shave every time. There are any number of electric razors on the market, but many men prefer the controlled, closer shave offered by a traditional razor.
Whether you prefer a semi-disposable manual with replaceable blades, or a fully disposable one, the ten models reviewed below will give you a smooth, even, and hassle-free shave every morning.
Top Five Replaceable-Blade Manual Shavers

1. Gillette Mach3 Turbo Shaving System.
This top-rated razor offers great design at an affordable price. The Mach3 Turbo is easy to hold and feels good in your hand. Three progressively aligned anti-friction blades and an aloe lubricating strip give you a close and comfortable shave with a minimum of passes, and the Mach3 has an indicator strip to let you know when it's time to replace the blade. 8 Gillette Mach3 Turbo Refill Cartridges
---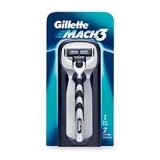 2. Gillette Mach3 Shaving System.
Like the Mach3 Turbo, the Mach3's three-blade design ensures a smooth shave. The lubricating strip's blue line fades over time so you always know when it's time to change cartridges. 12 Gillette Mach3 Cartridges
---
3. Schick Quattro Midnight Razor.
The Schick Quattro has four coated blades for an ultra close shave, and adds not one but two Vitamin E and aloe comfort strips to prevent irritation. The Schick Quattro's blade edge coating makes each cartridge last longer than typical razor cartridges. 8 Schick Quattro Cartridges with Titanium Coated Blades.
---
4. Gillette Fusion Manual Razor.
The Gillette Fusion has five gliding blades and an additional precision trim blade on the back of the cartridge for hard to reach places, like the spot just under your nose or around your goatee. 8 Gillette Fusion Manual Replacement Cartridges.
---

5. Gillette Sensor Excel Shaver for Men.
The Sensor Excel's pivoting head and twin self-adjusting blades follow the contours of your face for a great shave every time. 10 Gillette Sensor Excel Cartridges
---
Top Five Men's Disposable Shavers

6. Schick Quattro Disposable Razors.
With its four blades and two enriched conditioning strips on a pivoting head, the Schick Quattro Razor performs like a non-disposable at a disposable price. Schick Quattro For Women High Performance
Disposable Razors.
---
7. Gillette Custom Plus Pivot Disposable Razors with Extra Lubricating Power.

The Gillette Custom Plus Pivot Razor gives performance you can count on. Its twin-blade pivoting head will follow the contours of your face like a more expensive razor, and the shaver's aloe-enriched lubricating strip makes it a perfect choice for sensitive skin.
---
8. Gillette Good News! Pivot Plus Razors with Lubrastrip.

The Gillette Good News! Pivot Plus is a classic twin-blade razor that adds a pivoting head and lubrastrip for a close shave that won't plague you with painful and messy cuts and nicks.
---
9. Gillette Good News! Razors.
If you're looking for a no-nonsense razor that gets the job done without mess or fuss, you can't go wrong with the twin-blade Gillette Good News! Razor.
---

10. Schick Slim Twin Disposable Razor for Sensitive Skin.
With its Vitamin E comfort strip, the Schick Slim Twin Disposable is specially designed for sensitive skin. Features one-push cleaning and twin blades that will deliver up to a week's shaving per razor.
---
Hair Removal & Shaving Reviews | Top Ten Manual Razors for Men | Best Razors for Women | Gillette Razors for Men
---
Post Your Submission Here
If you would like to write a review please fill in the form below. For questions please be specific. If asking a question on merchandise, please give as much information as possible. Such as the brand, make, model, where purchased, etc.

What Other Visitors Have Said
Click below to see contributions from other visitors to this page...

Schick Slim
Twin Disposable Regular

Dear Shick, PLEASE! bring back the Slim Twin disposable Regular. This razor was balanced and never caused me to nick myself in the 10 years I used …