Non-nickel razor blades availability? Allergy problems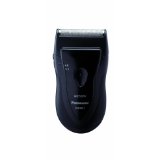 Nickel Free Panasonic Travel Shaver
Are there razors that do not have any nickel as I am allergic to nickel?


ANSWER:
Not sure if you are talking about electric razors or manual razors. Also, unknown if you want men's or women's shavers/razors.
Some people with nickel allergies can use stainless steel razors, even though stainless steel contains about 10% nickel. However, if you have an allergy that is sensitive to stainless steel with nickel, than I will point out what shavers/razors could be found.
1.
Panasonic ES3831K Single Blade Travel Shaver
with a floating head that is nickel free and hypoallergenic for sensitive skin.
2.
Panasonic ES2291D Ladies Wet/Dry Shaver
is equipped with nickel free hypo allergenic stainless steel foils and blades.
Could find plenty of hypo allergenic razor blades, manual razors, and electric shavers. However, other than these two, they all were stainless steel but not nickel free.